$25 for 25 Years – Donations Made Together Create Change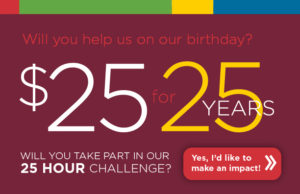 Positive Impact Health Centers' 25th Birthday
Atlanta, GA (Sept. 26, 2016) – Positive Impact Health Center's celebrates 25 years of service to the Atlanta community. Positive Impact Health Centers provides client-centered care for the HIV community and works tirelessly to prevent transmission of HIV. After the merger of two long-standing AIDS Service Organizations, Positive Impact and AID Gwinnett, the agency has amplified its impact and continues to expand services to meet the growing needs.
The agency kicked off its 25th-year campaign. We are collecting $25 donations to show how even a small donation made together can change our community. Atlanta has become the epicenter for HIV diagnoses in the country. The CDC estimates 1 in 51 Georgians will be diagnosed with HIV in their lifetime. Together we can get those new cases to zero.
"Our staff make an incredible impact on the community every year. The community can make that same level of impact with a donation. It really does just take $25 by many to make turnarounds possible," Olivia Chelko-Long, Vice President – Development and Communications. The agency is proud to serve over 1,000 individuals in medical care and test over 7,500 individuals every year for HIV. They need to serve more and test in more locations – Atlanta residents we need your help.
Here is how you can help.
(1) Make a personal contribution of $25. Your DONATION no matter the size has impact.
(2) HELP SPREAD THE WORD by sharing the campaign and information via email, Facebook, and Twitter, encouraging others to make a donation.
(3) Take a picture and SHARE your images – congratulate the agency on 25 years (caption how you have been impacted/inspired).
You can find more information about the campaign, 25th-year activities, and make a donation at www.positiveimpacthealthcenters.org.