Pharmacy
The Pharmacy team provides customers highly specialized, comprehensive HIV pharmacy care in a patient-centered supportive and confidential environment.

Our Pharmacists are dedicated to meeting your medication needs at every stage of your HIV care. We are also here for those at-risk of HIV and on PrEP, the daily HIV prevention medication.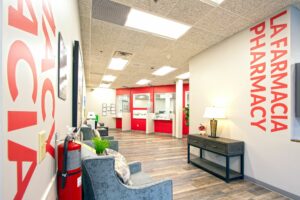 Every member of our Pharmacy Team is committed to becoming an active member of your support network and will provide you the education, counseling, and encouragement needed to be successful in HIV treatment and prevention medication.
By filling your prescriptions at one of our pharmacies, you are also making a difference in your local community and helping others living with HIV. All funds earned by the pharmacy program are used to support HIV prevention programming and provide support services for Atlanta's HIV community.
Meet our
Director of Pharmacy Operations
Dr. Shin Ly, PharmD
Dr. Ly received her Doctorate of Pharmacy degree from the University of Georgia. She completed her first year of residency at Emory, with a focus on specialty pharmacy. During her residency, she worked closely with pharmacy leadership and various clinics to grow and establish clinical programs.
She did a second year of residency training at Boston Medical Center to hone her clinical skills. With her additional training at New England's largest safety net hospital, Dr. Ly worked closely with the region's most vulnerable and underserved populations to achieve their health goals through promoting self-efficacy.
Dr. Ly is grateful for the opportunity to serve patients of PIHC. Our goal is to continuously work to enhance and develop pharmacy operations and programs in collaboration with our providers to deliver exceptional care.